BREAKFAST SANDWICH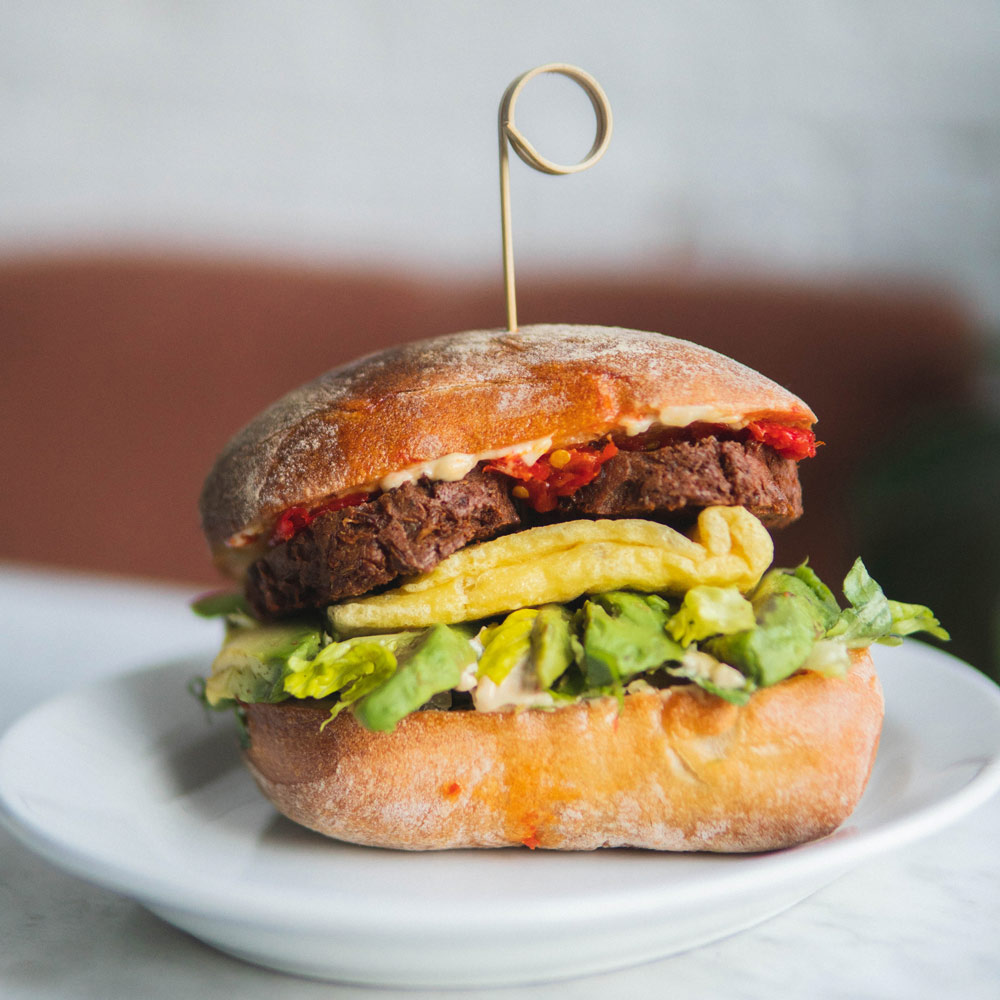 with plant-based egg (mung bean protein), pinto bean sausage, avocado, lettuce, and spicy vegan mayo on a freshly baked ciabatta bun made with certified organic Canadian hard wheat flour $16
FILET O FISH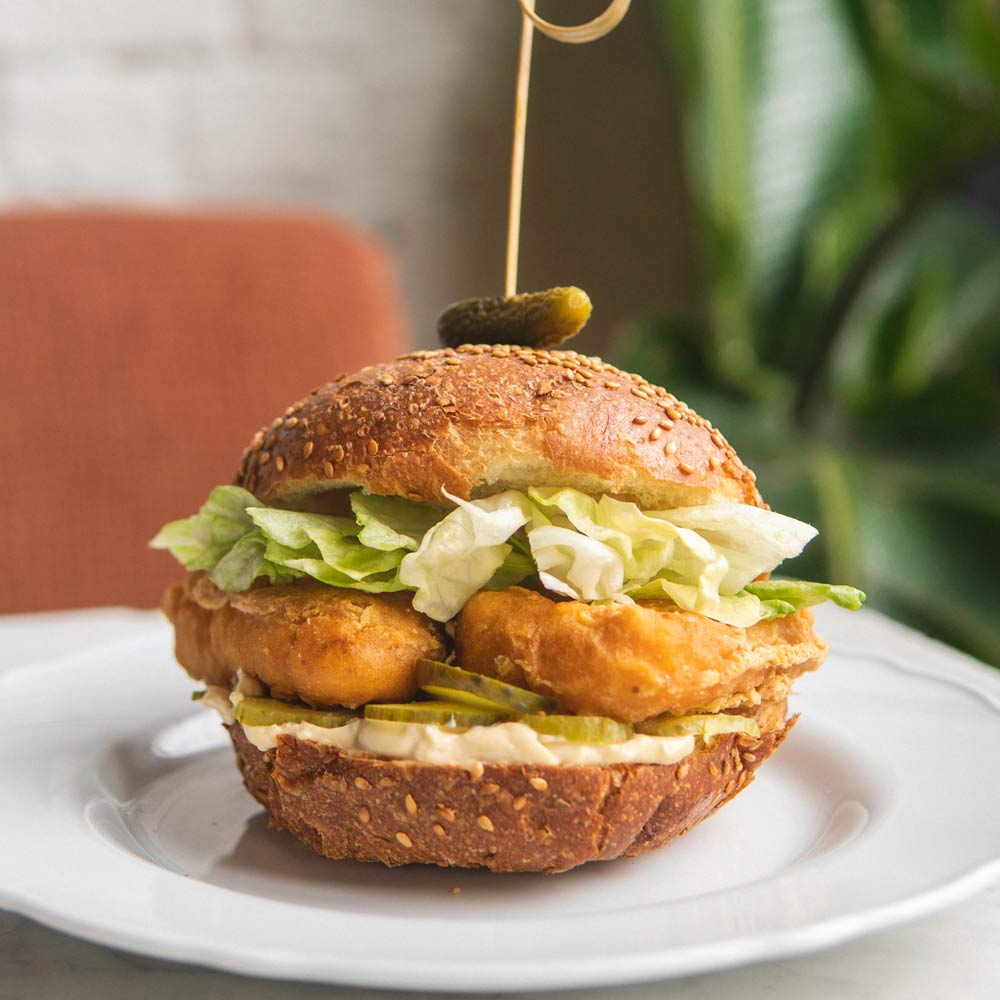 Gardein golden filet with vegan tartar sauce, iceberg lettuce, on a Blackbird sesame bun $16
FRIED CHICKEN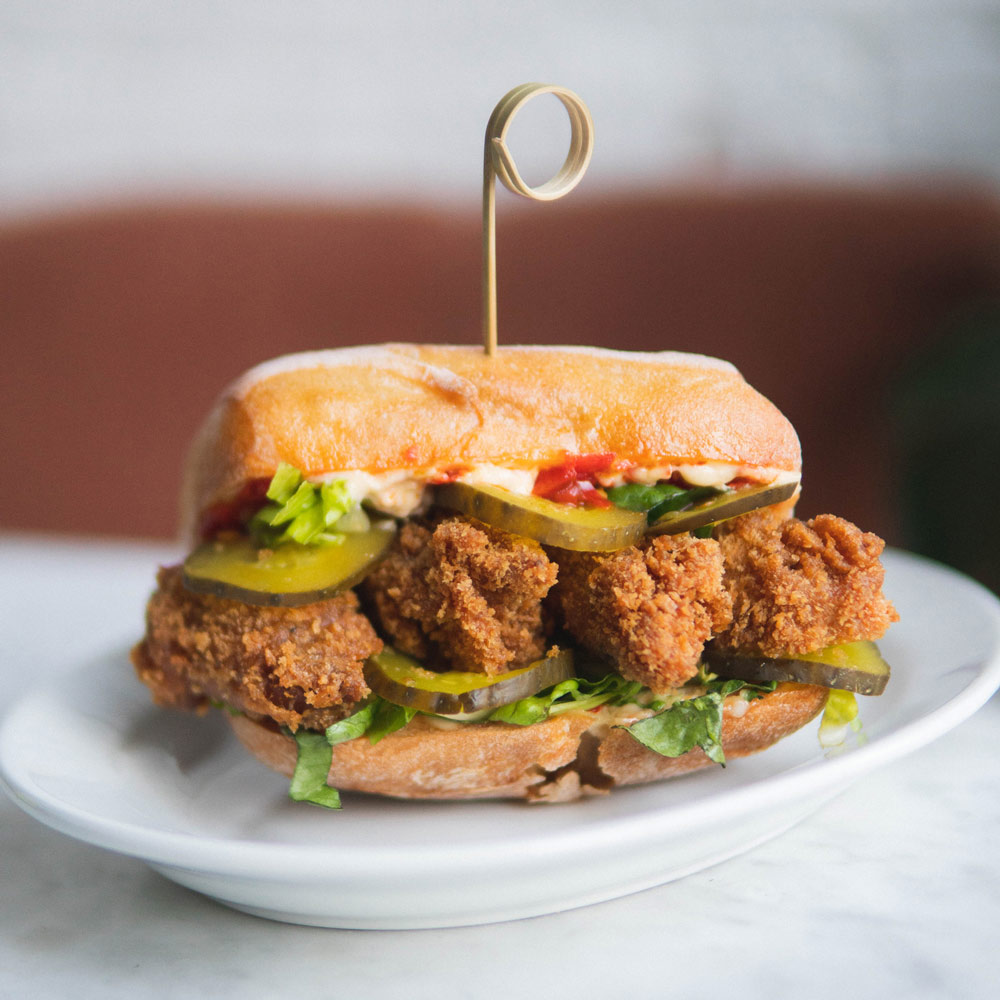 Schitt's Creek star Dan Levy praised this plant-based fried chicken sandwich. It is coated in a top-secret spice blend, and accompanied with preserved chillies, spicy mayo, crispy iceberg lettuce, and kosher dill pickles, all held together on a freshly baked ciabatta bun made with certified organic Canadian hard wheat flour $16
CORN'D BEEF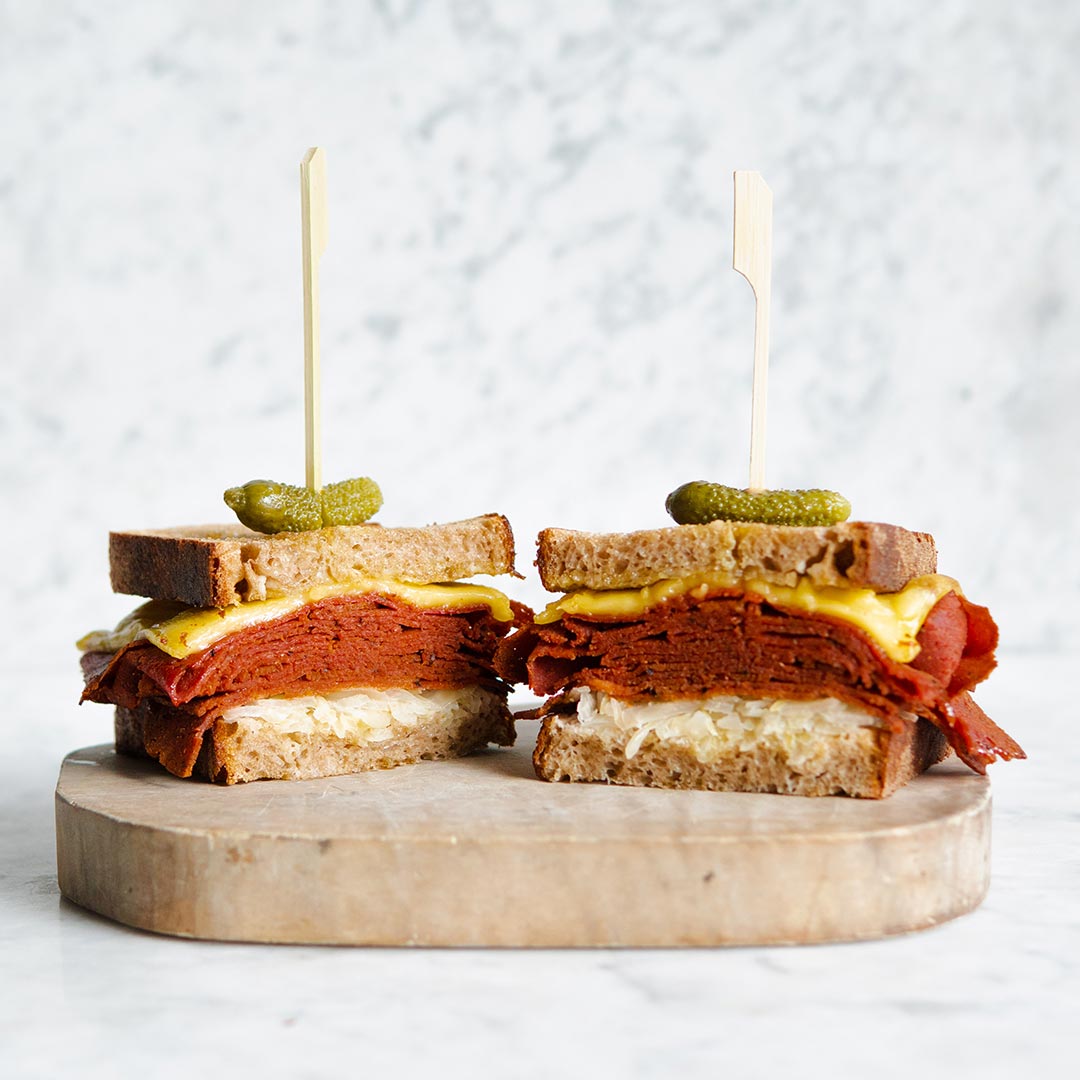 Brodflour's Classic Sourdough lightly toasted with olive oil, Unreal Deli Corn'd Beef, Violife smoked provolone, Kozlik's horseradish mustard, vegan mayonnaise & naturally fermented sauerkraut $17


POUTINE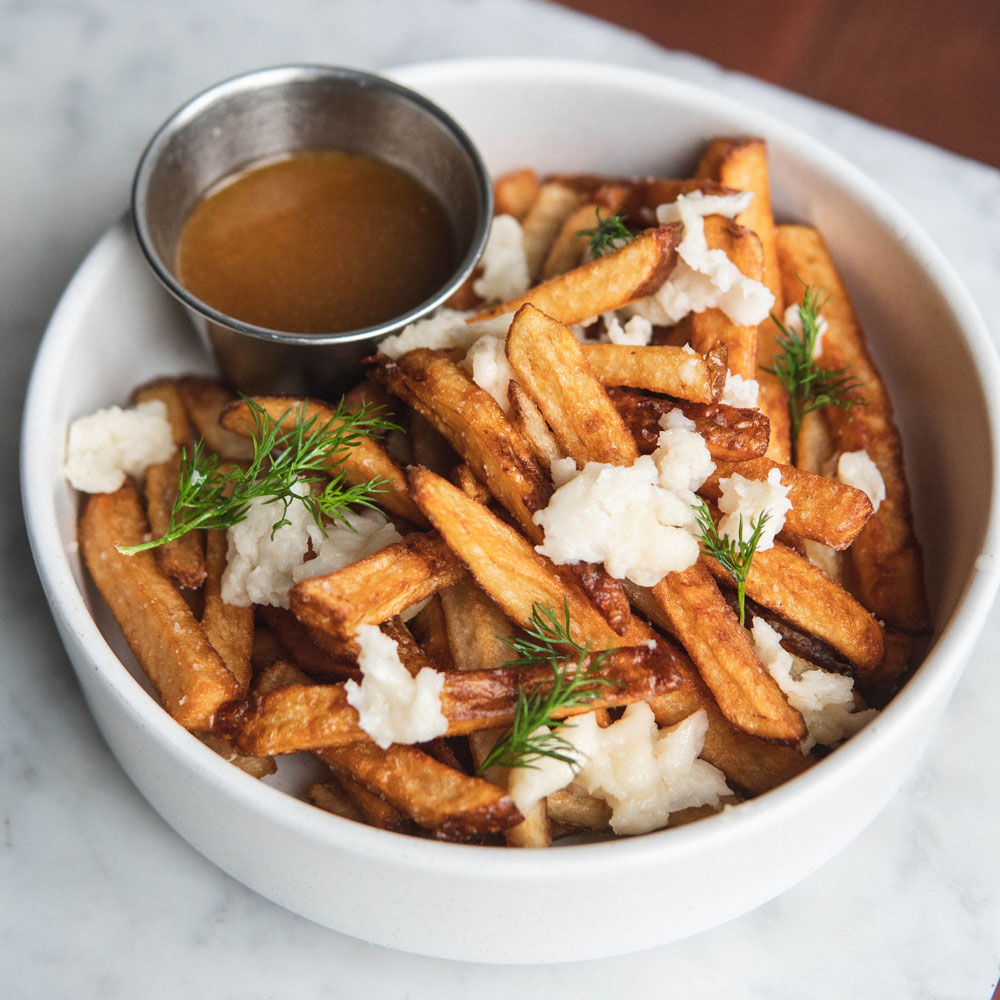 with vegcheese curds, mushrom onion gravy $9
JUICES & MYLKS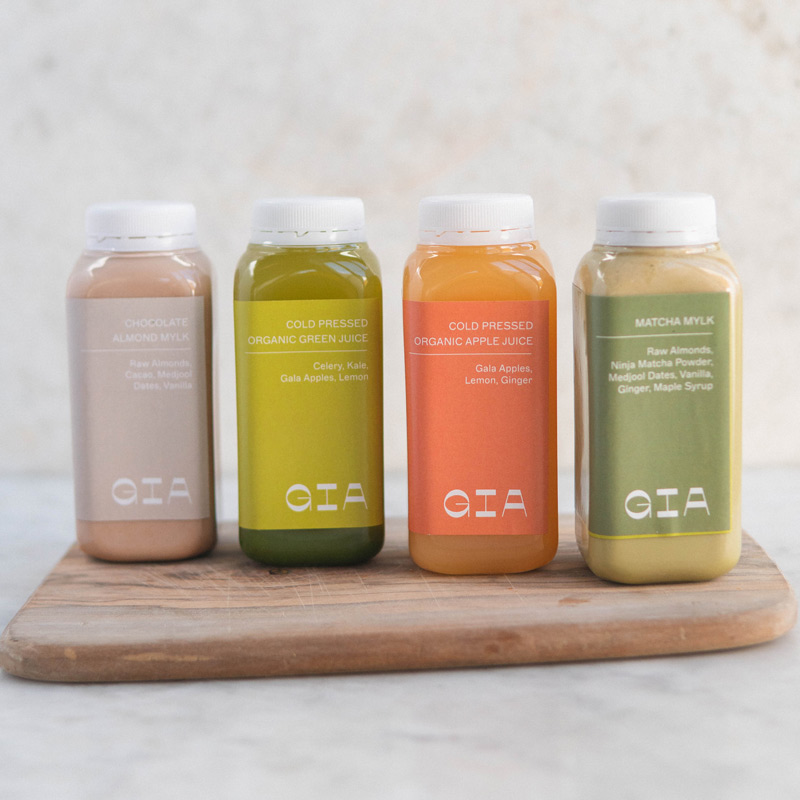 organic, raw, cold-pressed juices and plant mylks $5
Stefano's is closed while he finds a new home.
Select sandwiches are available at Gia at lunch – 1214 Dundas West.
Menu subject to change.
If ordering for delivery, please note that our drivers will not deliver directly to apartment/condo doors until further notice. They will wait for you in the building lobby and call you when they have arrived. Thank you for your understanding!
FRIED CHICKEN SANDWICH 16
Schitt's Creek star Dan Levy praised this plant-based fried chicken sandwich. It is coated in a top-secret spice blend, and accompanied with preserved chillies, spicy mayo, crispy iceberg lettuce, and kosher dill pickles, all held together on a freshly baked ciabatta bun made with certified organic Canadian hard wheat flour
FILET O FISH 16
Gardein golden filet with vegan tartar sauce, iceberg lettuce, on a Blackbird sesame bun
ALL DAY BREAKFAST SANDWICH 16
with plant-based egg (mung bean protein), pinto bean sausage, avocado, lettuce, and spicy vegan mayo on a freshly baked ciabatta bun made with certified organic Canadian hard wheat flour
CORN'D BEEF SANDWICH 17
Brodflour's Classic sourdough lightly toasted with olive oil, Unreal Deli Corn'd Beef, Violife smoked provolone, Kozlik's horseradish mustard, vegan mayonnaise & naturally-fermented sauerkraut
BABY GEM SALAD 18 / 10
pickled enoki mushroom, crispy shallot, pangrattato & almond vinaigrette *contains nuts & soy
MEATBALLS 18
panko crusted, preserved chilis & vegan mozzarella *contains soy
SAUTÉED RAPINI 14
roasted garlic olive oil, lemon juice, peperoncino, Violife parmesan
BRUSSELS SPROUTS 14
brown butter sherry vinaigrette, toasted walnuts, Violife parmesan *contains nuts
OLIVES 7
citrus, garlic, onion, herbs
POUTINE 9
with vegcheese curds, mushroom onion gravy
FOCACCIA 6
with rosemary & garlic oil
PASTA
SPAGHETTI FUNGHI 24
truffle butter, cashew ricotta, Tuscan kale, mushrooms, Violife parmesan *contains nuts
SPAGHETTI POMODORO 21
rustic tomato sauce, Violife parmesan
RISOTTO 23
charred leeks, almond gremolata, Violife parmigiana oil *contains nuts
PAPPARDELLE BOLOGNESE 25
a classic ragu, parmesan *contains soy
add truffles 12
DESSERT
OLIVE OIL CAKE 11
with apple butter
BLOOD ORANGE SORBET 7
BEVERAGES
Mimosa
with cold pressed orange juice 10.00
Aperol Spritz 10.00
Brio 2.95
Brio Aranciata / Limonata 2.95
Coke / Diet Coke / Gingerale 2.15
Krombacher 0.0% Pils, Kreztal, Germany 6.00